WELCOME T

O

PEACE
Sundays 9:30 am in the sanctuary or Streaming on Facebook YouTube.
The Season After Pentecost!!!
The longest season of the church year falls between Pentecost and Reformation Sunday. This is often called the time after Pentecost or Ordinary time. This is a season of where we study the teaching of Jesus paying close attention to parables and miracles. The green color for the season reminds us of our growth in our faith, and symbols such as loaves and fishes, are used to remind us of Jesus' teachings.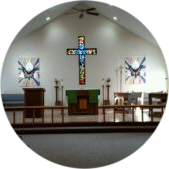 What's Happening
Items needed for LWR School Kits
Click HERE for more info on school kits!
We Have resumed in person worship on Sundays at 9:30am.
Please click HERE to view the congregational letter with more details.
Volunteers for the Food Pantry Needed
The need for food in Otsego county is still great! Help out by volunteering at the food pantry. Peace Lutheran will be volunteering August 5th and 6th from 12-2pm! Call Graydon Blank to sign up to help!
Community Meal- August 20th
Peace Lutheran will host it's next community meal at 1st congregational church on August 20th! We will we be serving a picnic dinner with burger, brats, corn on the cob, watermelon and more! There will be options to eat at the church or take meals to go. We need volunteers to help with food prep starting at 12 and with service and clean up starting at 3:30. Please contact Glenn Deakin for more info.
Check Out Our Latest Worship Service on YouTube!- Just click the YouTube icon below to be taken to our page! You can Like and Subscribe to get notifications sent to you!
Download this week's Bulletin