New to Peace Lutheran Church? Here's what you can expect…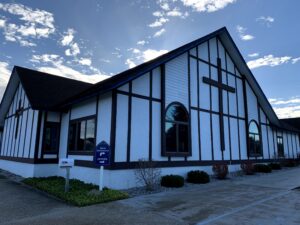 We are currently offering the option of of online or in person worship on Sundays at 9:30am
When you arrive at the church you will be greeted at the door. If your visiting us for the first time our greeter will ask your name and invite you to fill our a visitors card!
As you move through the narthex towards the sanctuary you will notice folks visiting, checking the bulletin boards for upcoming events, and picking up devotional guides and other church information at the kiosk! Please feel free to hang out here, pick up items, or move towards the sanctuary at your own pace.

Please note – You do NOT need to be a member to sign up to attend any of the events happening at Peace

.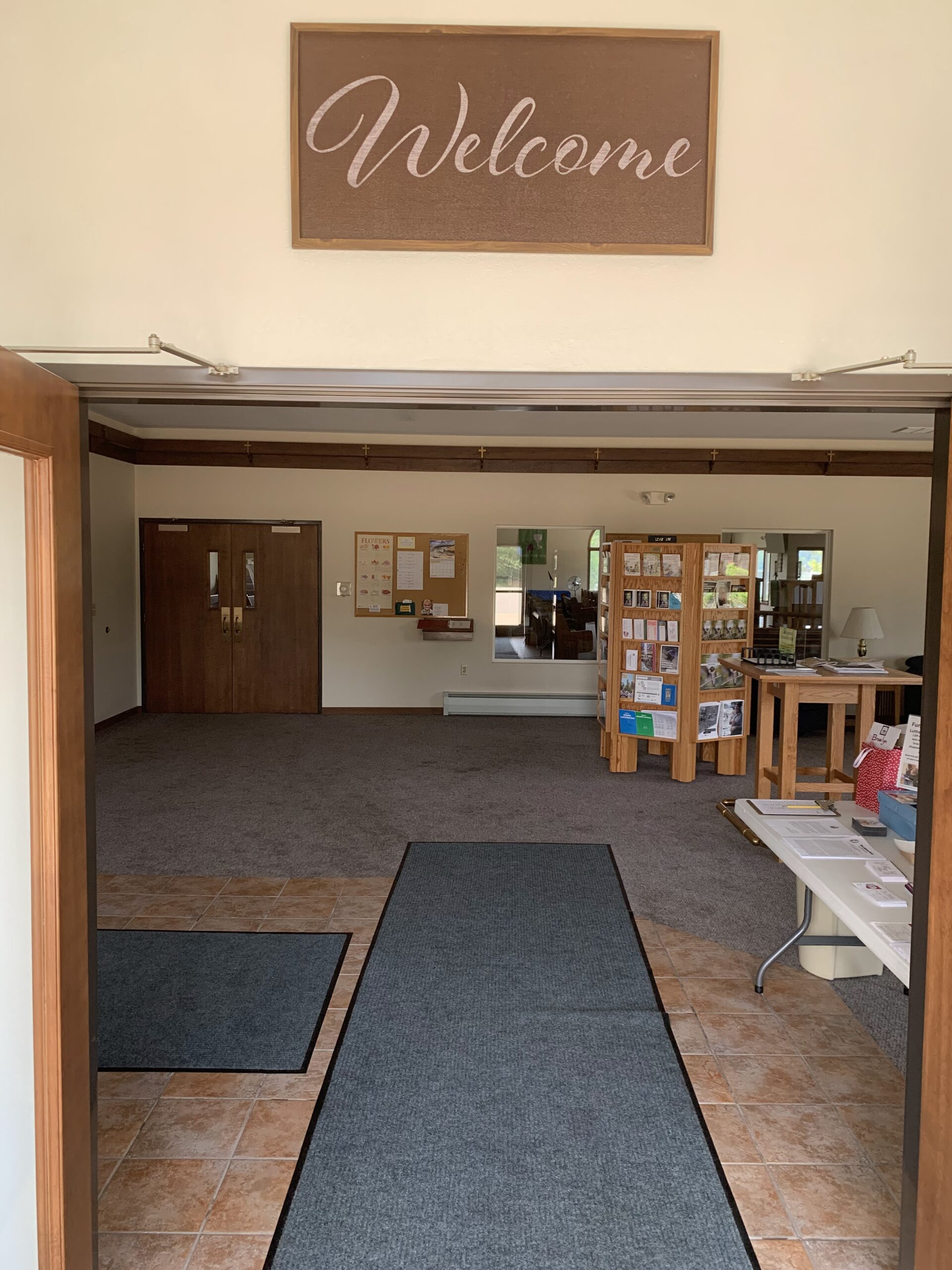 Please note that while we do not handout bulletins but we do have several large print copies of our service on the table in the narthex for those who have trouble seeing the screens.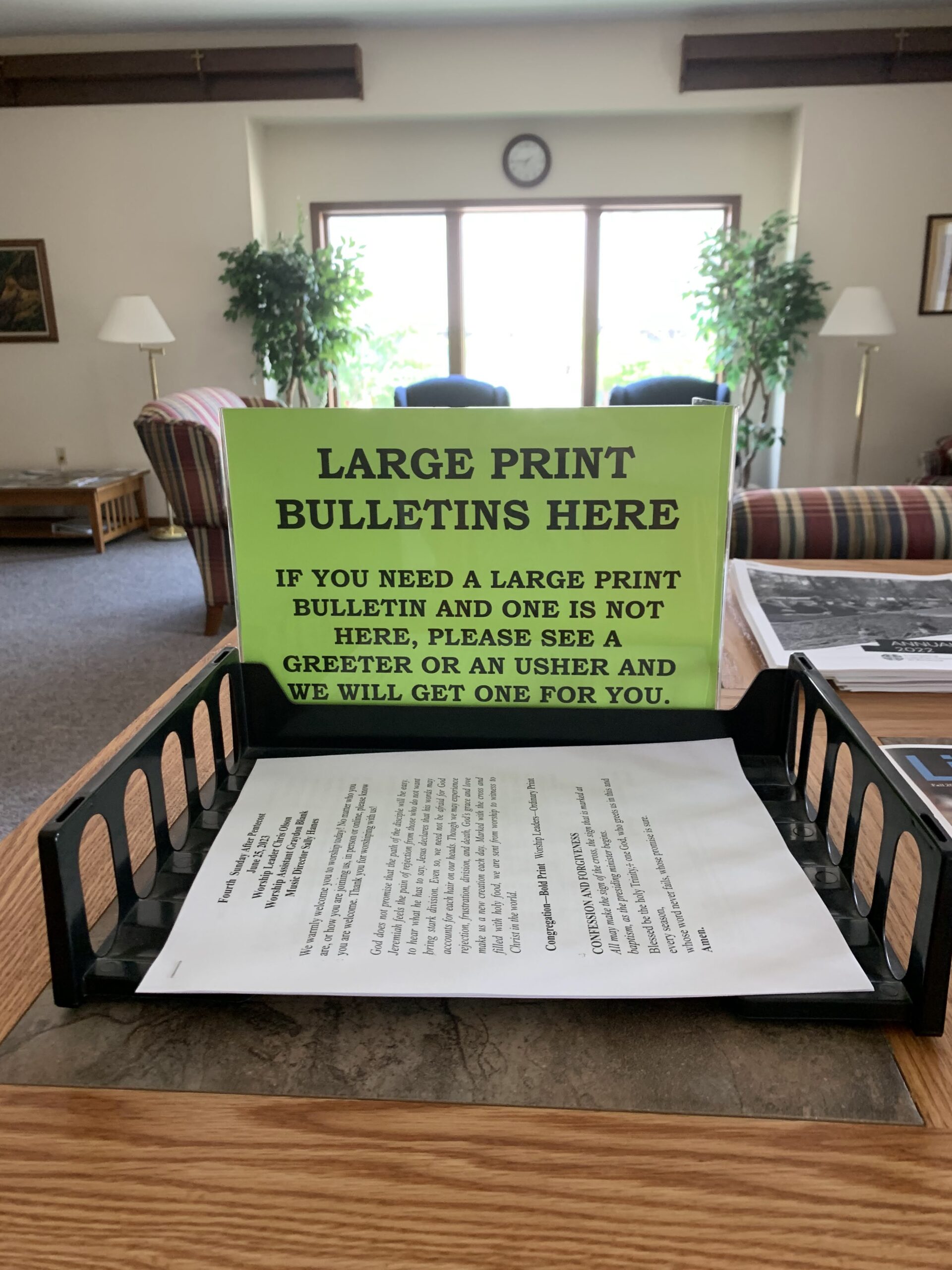 Once you enter the worship space you feel free to sit ANYWHERE!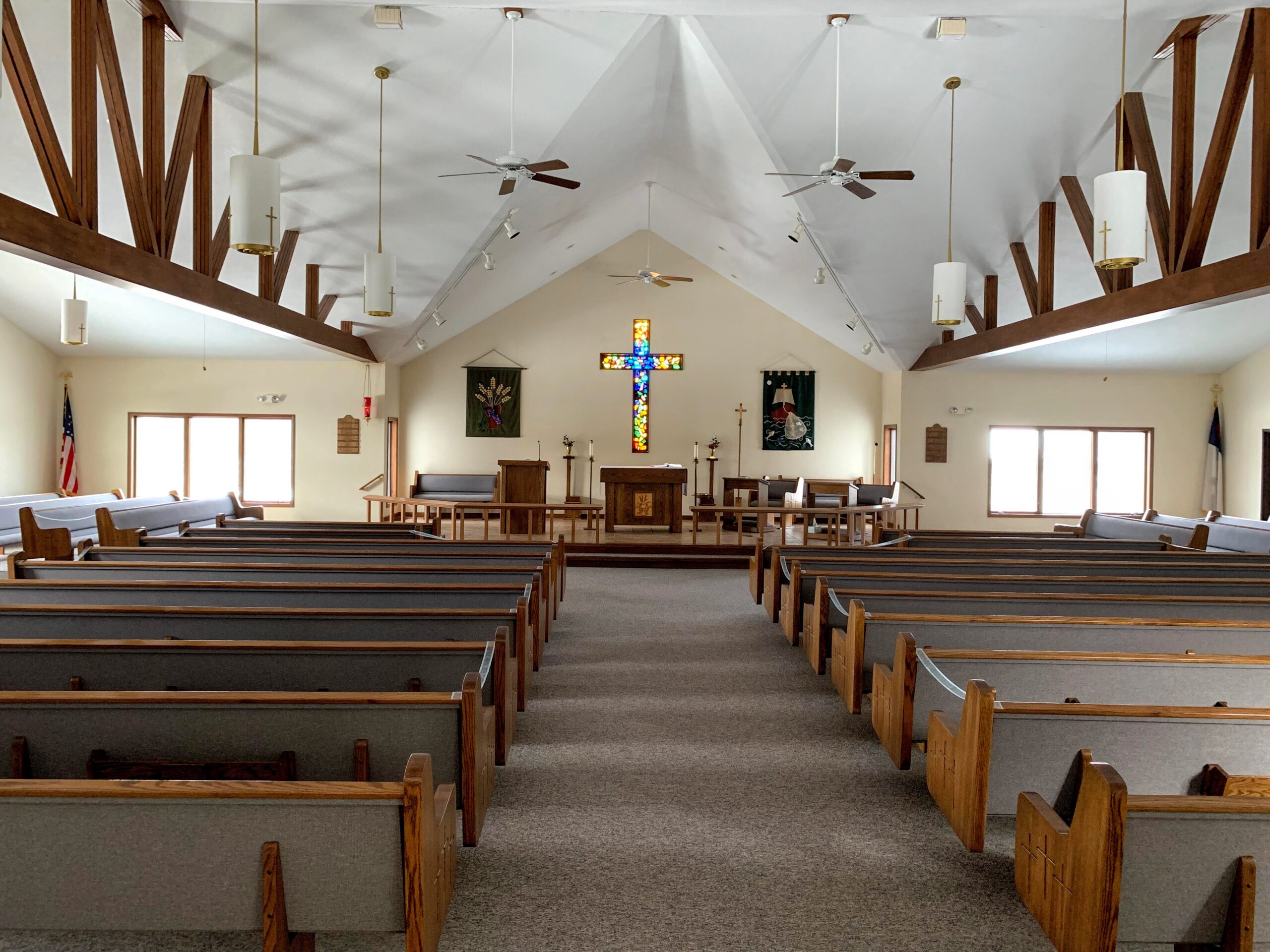 Communion will be celebrated each week during the worship service, ALL are welcome to participate. We have wine and grape juice in individual cups and offer gluten free wafers to those who need them.
After worship we invite you to join us for coffee and treats in our fellowship hall!
We offer drive up communion for anyone who is unable to attend worship in person between 10:45-11am on Sundays. You can also watch the service anytime from our website, Facebook, or YouTube Page.
You are always welcome at Peace Lutheran Church!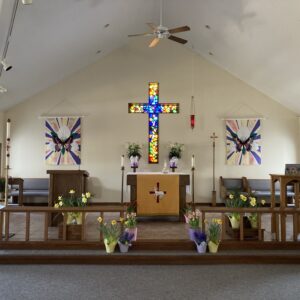 Peace Lutheran Church is located at 3703 Old 27 South, Gaylord MI 49735.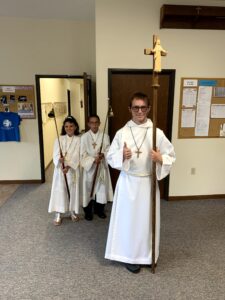 What should I wear? – Anything you feel comfortable in. Most folks dress wear slacks and a comfortable top. There is no dress code at Peace Lutheran.
What is the blue box on the table for? – This is where we collect donations for our Fund of the Month. These support congregational ministries, community non-profits, and churchwide funds like Lutheran Disaster Response.
What are the gifts bags on the table? – You may notice gift bags on the table near the door. These are part of our secret sister program. Each year ladies in the congregation draw names and surprise their secret sister with little gifts, cards, and treats throughout the year.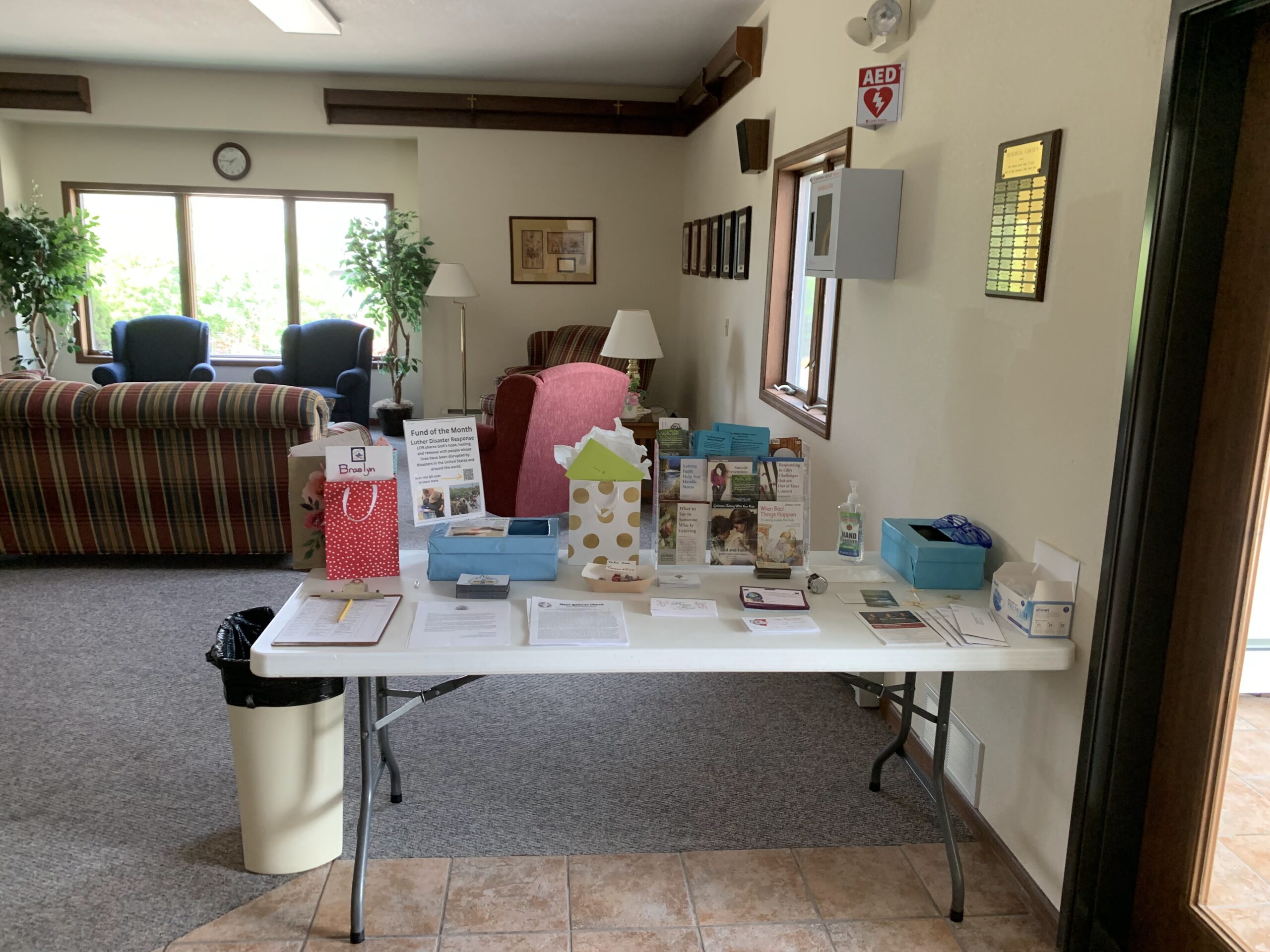 Can I take Communion? – YES we have an open table at Peace Lutheran which means anyone is welcome to come to the table. We are also happy to bring communion to you in pews, or to provide a personal blessing instead of communion if you prefer.
Can I make an online donation? – Yes! Our offering plate is placed on a table near the sanctuary entrance. Gifts may be places in the plate, or you can use the camera on your phone to take a picture of the QR code next to the plate. This takes you to our online giving page where you can make a donation with a few simple clicks.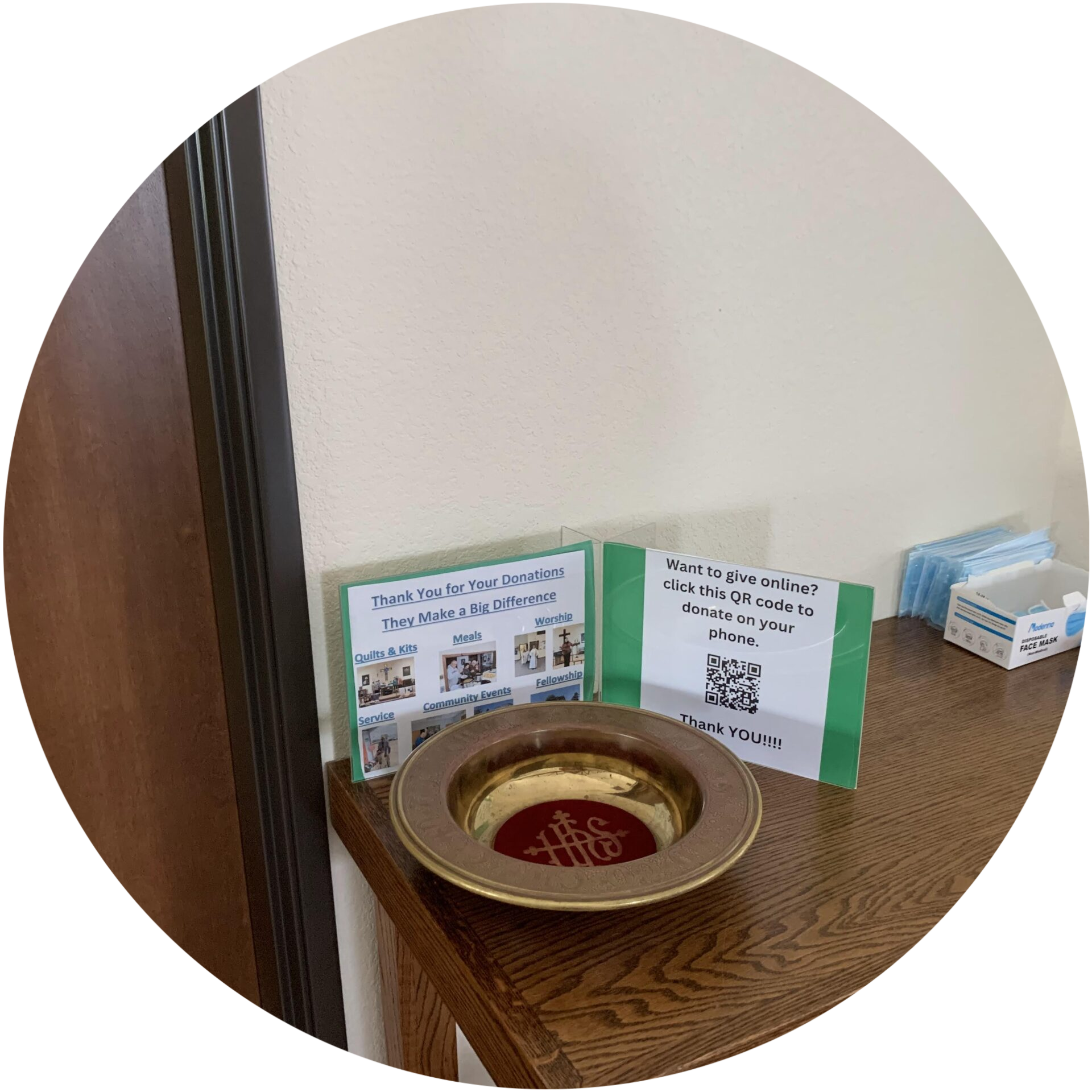 We collect an offering each week that goes to support the ministry of the church. We will occasionally have special offerings for things like Local and World Hunger, Building Projects, or special appeals to help with disasters. Please know that no one is under any obligation to give!
We will also collect items for things like school kits and health kits to be sent to Lutheran World Relief throughout the year. Please see the Faith and Action Section for more information about this ministry
Gifts are given as our joyful response to what God has first given us and used to share God's love in the world. Please see the Donate page for more information about how to give and what our gifts support.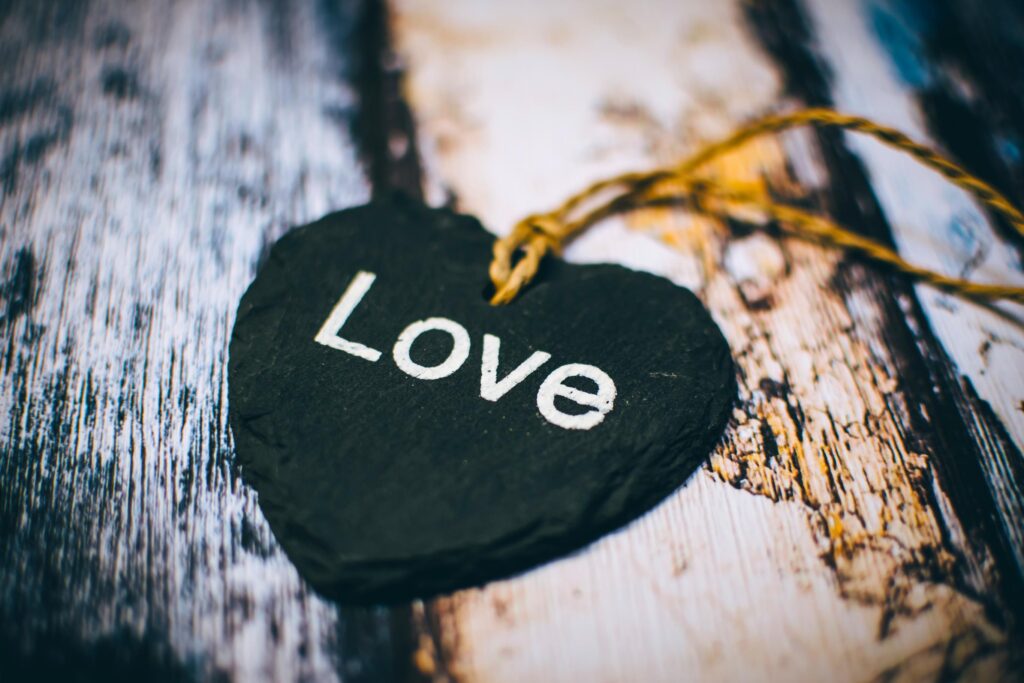 After Church Fellowship!!!
We invite you and your family to join us after worship for coffee and treats in our fellowship hall! Congregation members volunteer to bring a variety of goodies each week for you to enjoy while you have an opportunity to socialize with other worshipers!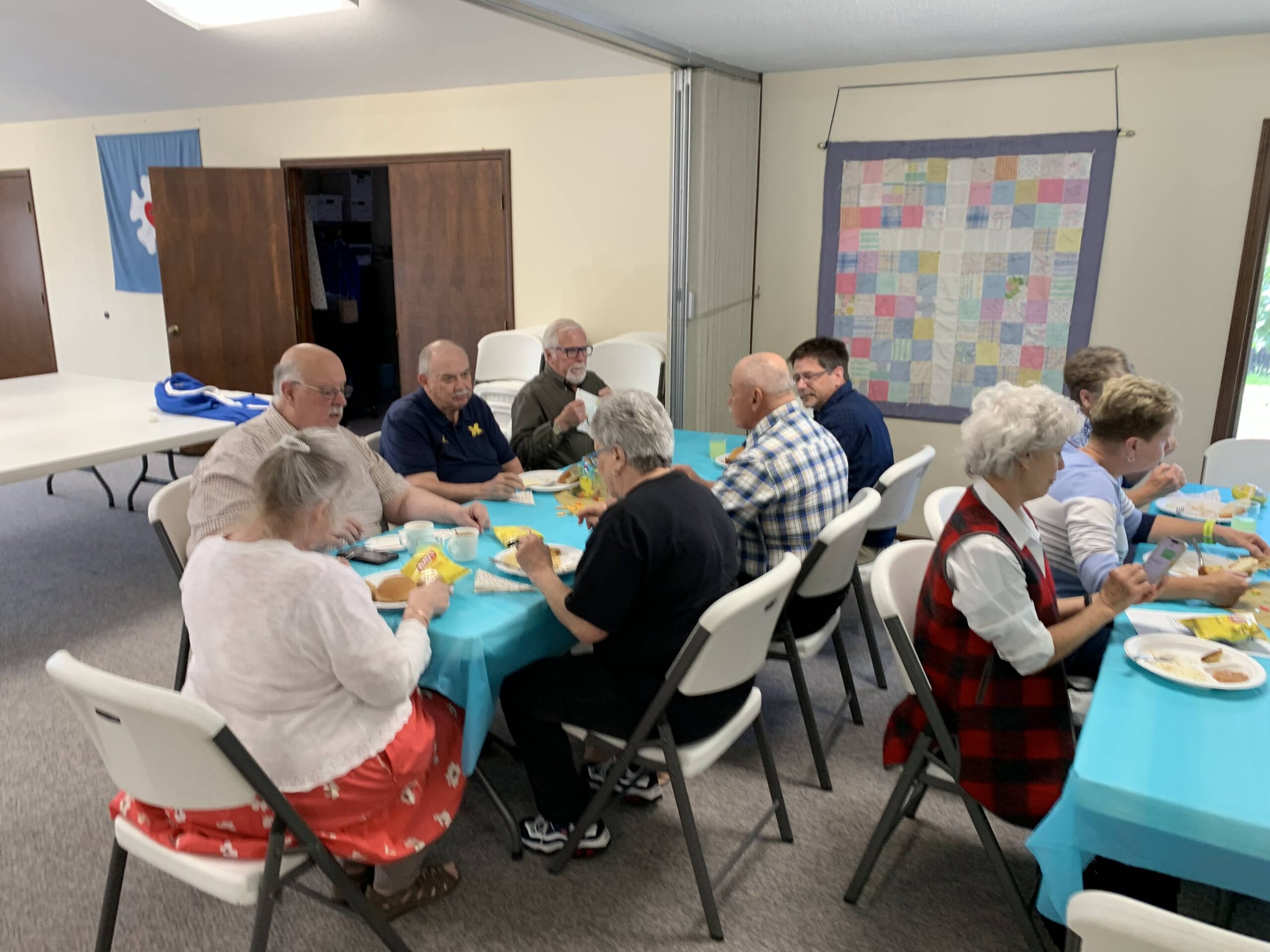 Worship is roughly 1 hour long and includes communion each week.
There are Four part of worship at Peace each Sunday; Gather, Word, Meal, Send.
Gather

– A time where we remember we are part of God's community, songs, prayers, and confession and forgiveness remind us that God welcomes us and encourages us to welcome each other as brothers and sisters in faith!
Word

– Weekly readings from the Bible and a homily or message from our Pastor help us stay rooted in our faith.
Meal

– This is the celebration of Holy Communion! All people and ages are welcome to participate in the meal!

For those worshiping online in the Gaylord area, we offer drive up communion with prayer at 11am most Sundays.
Send– This is the final part of the service and includes closing prayers, songs, and blessings that remind us that we are sent with God's blessings to share God's Love in our World.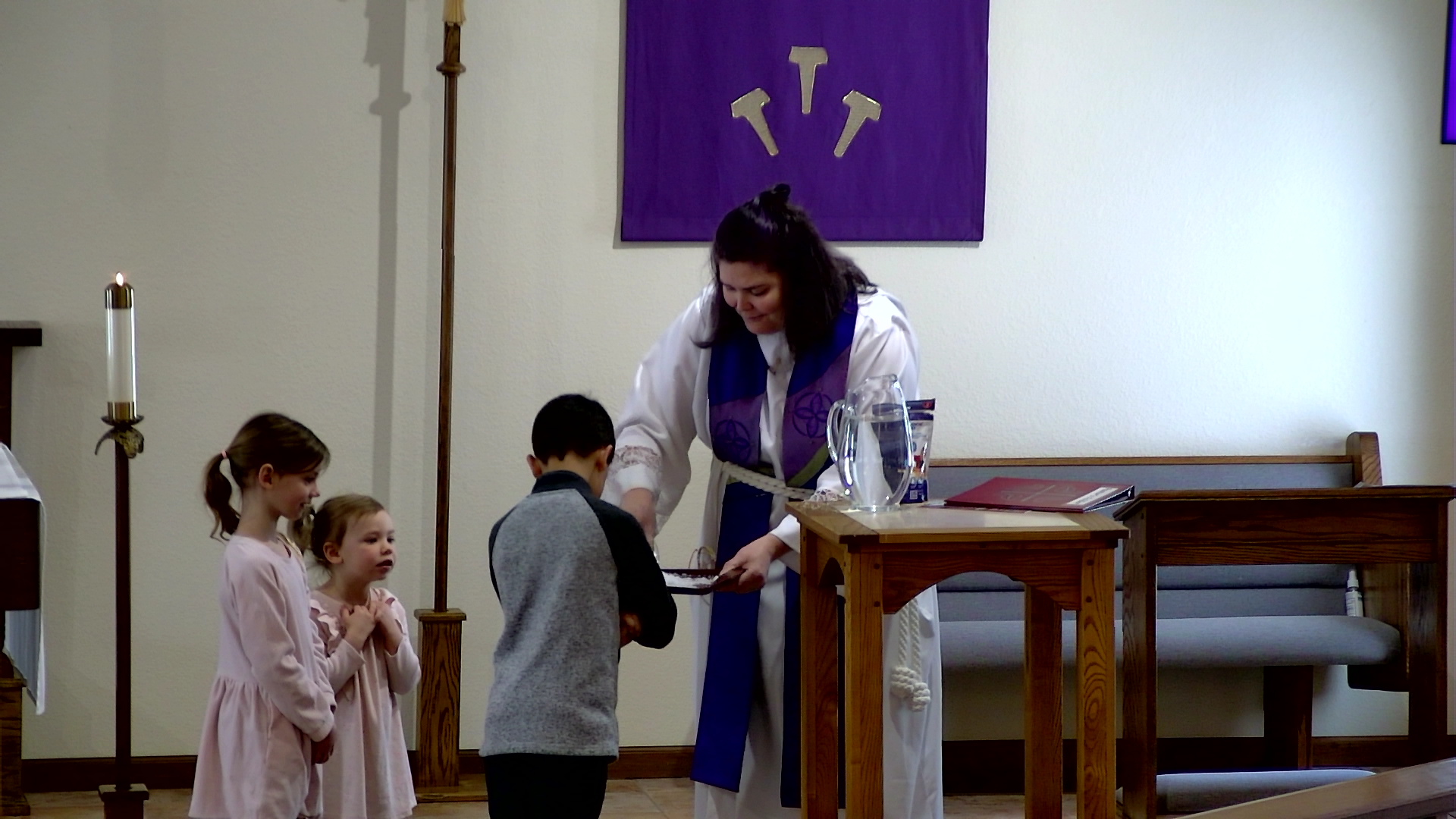 Children in Church
Peace Lutheran Church loves children! Pastor Megan does her best to include kids in worship by asking them to help with simple tasks like carrying the offering plate or helping with a children's service. Our members are delighted to play peek-a-boo over the pew with your little ones, and we provide a quiet room attached to the sanctuary for kids who need to wiggle and giggle during the service. – Please see our Nursery page for more info
Middle School and High Youth are also welcome and encouraged to participate in worship by being an acolyte, helping usher, and serving as readers. Please see our Youth Ministry Page for more information