Advent can be a great time to grow in your faith as a family! Consider adding this devotional practice to your family's holiday routine.
Advent Week Four- Celebrate!
Week Four of Advent is a special time, All but one candle is lite, and we are almost ready to celebrate! This is a great time to take a deep breath, slow down, and really bask in the warmth and joy of the season…
Ask-

What is your favorite part of how your family celebrates Christmas? Is it the food, the decorations, the tree. What about your favorite thing about Christmas Eve Worship? Is it the songs, the story, the candles? Take some time to talk about your favorite ways to celebrate Christ being born, and why your enjoy them so much!
Share-

Tell your family about the things you liked doing most to celebrate Christmas when you were younger. What was worship like? What kinds of food did you eat? What did you wear? Then tell them what your favorite part of celebrating Christmas with them is!
Read-

Psalm 89:1-4 – Many of the psalms encourage us to celebrate the good news that God keeps his promises and is with us by singing and telling other people about God's love!
Act-

Record your family doing something that tells other people about God's love, maybe a Christmas Carol, prayer, or Bible reading… and then send that video to someone you know and care about!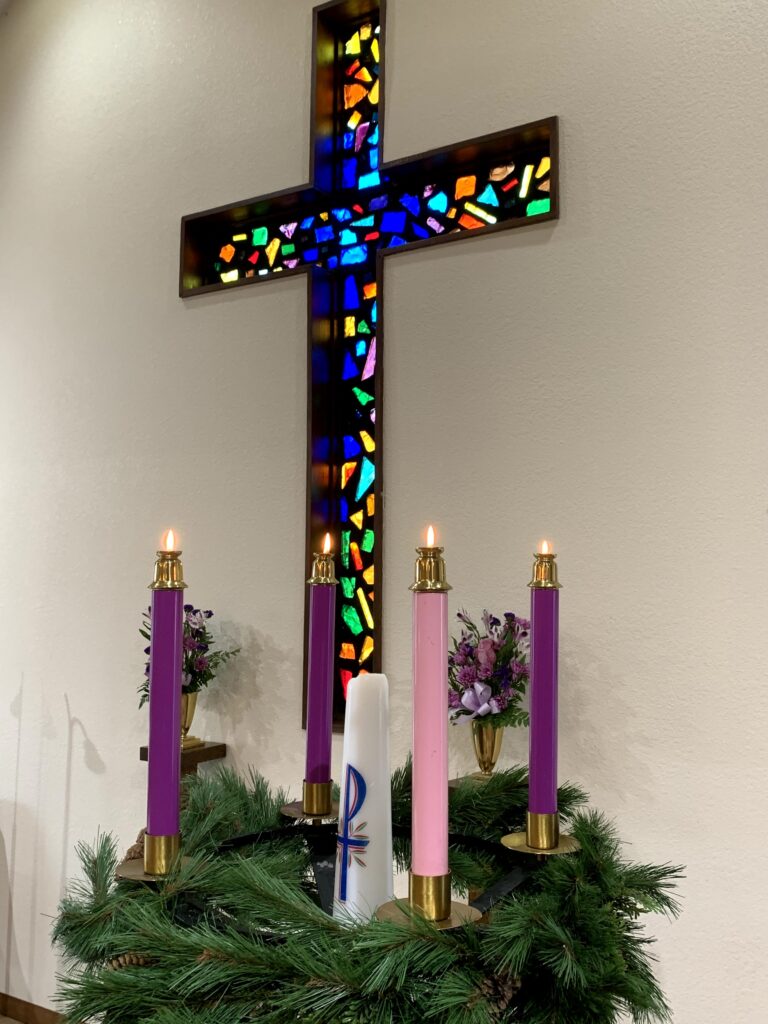 Advent Week 3 – Speaking Good News!
Ask-
Do you sometimes feel shy? That's ok if you do… and ok if you don't… A lot of people feel shy when it comes to telling people good news about God… they think they need to be someone special to do it… Have you ever felt that way?
Share-
Share a story with your family about a time you either told someone about God… or felt too shy to tell someone about God. What inspired you? What challenged you? how did it turn out?
Read –
John 1 Notice that the people wanted to know who John the baptist was… why he felt he could share the good news about Jesus coming… John says I'm just someone sharing good news like God says to! Remember God is speaking through us all telling the world the good things are coming!
Act

– Take some time this week to share the Good News about Jesus! It can be sending a card to someone, saying a prayer, doing something kind for a friend, family member, or stranger, or even just giving someone in you house a hug. When they ask why… you can say that you want to share the good news of God's love!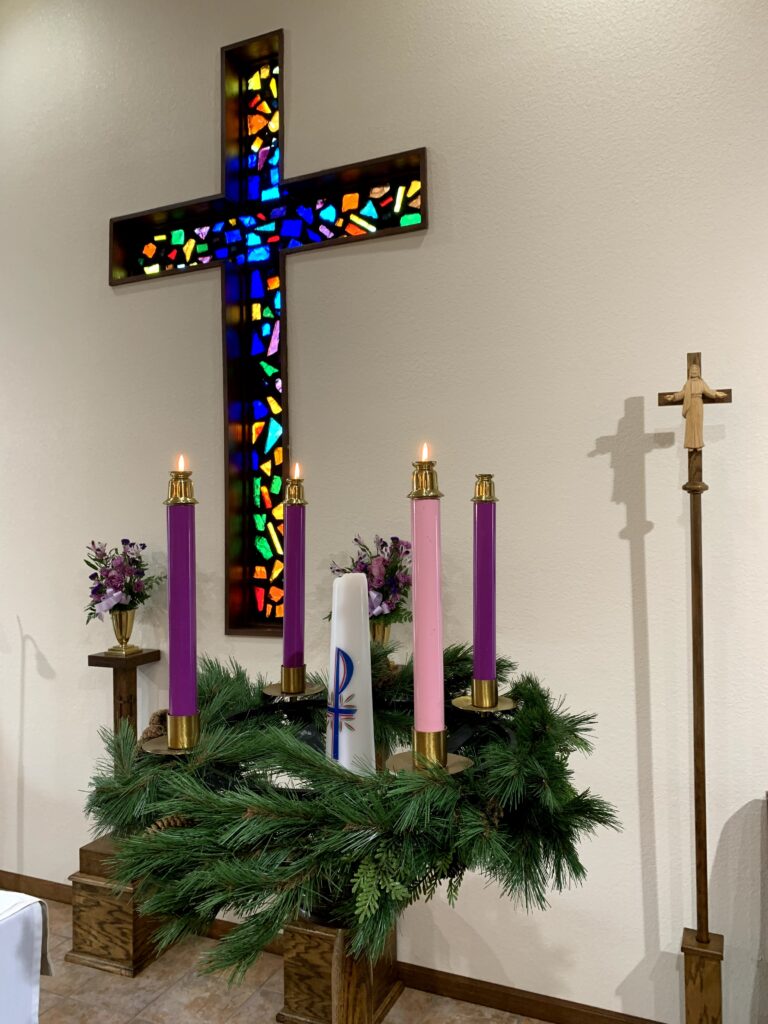 Advent Week 2- Listeni
ng
– One of the hardest things to do when your excited is to listen! but remember God is all around us and when we slow down to listen, we hear the story of Christmas everywhere!
Ask-

What kinds of things do we start to hear in December? One of Pastor Megan's Favorite things is all the Christmas songs. Which songs does your family like the best? What do those songs tell us about Jesus?
Share-

Tell your family about the songs you liked to sing when you were growing up. When did you first start hearing Christmas music being played in stores? Did you ever go caroling or have a Christmas program at the church? Share those memories
Read-

Mark 1:1-8 Notice that a voice cries out in the wilderness telling us that God is near! In the Bible, writers would refer to the wilderness when someone was going through something hard. People didn't go there because they liked it, and it was the last place you would expect to find God! But God is in the wilderness! God is with us whenever we struggle walking with us, and guiding us!
Act- Look up the words to some of your family's family Christmas songs online or in the hymnal. Read Do some of the words surprise you? What do you hear about God in those songs? How can listening to that music throughout Advent help you remember that God is always nearby… even when times are hard?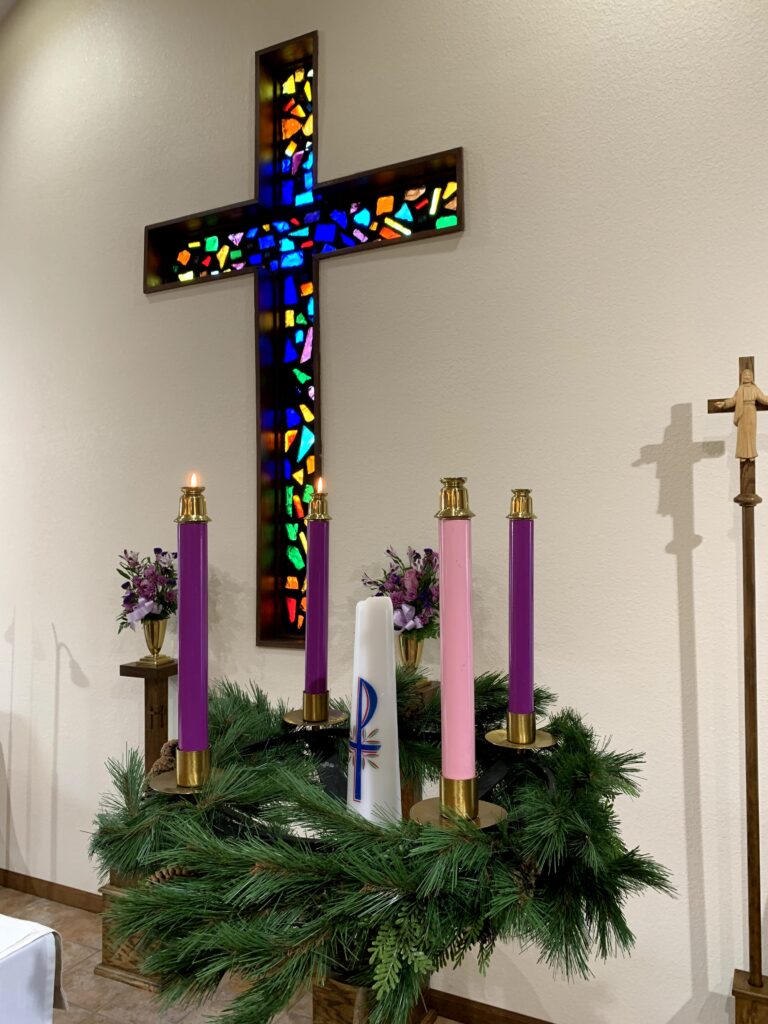 Advent Week 1- Anticipation-
Waiting is hard… especially for little ones! Help them understand that Advent is a season of Anticipation
Ask

– How do you feel when you're really excited about something coming up? Do you have butterflies in your tummy? Do you have a hard time sitting still? Is it hard to focus? What are you excited about this Dec?
Share

– Tell your kids or family members about some of the things you were most excited to do as a child. How did you deal with needing to wait?
Read
– 1st Corinthians 1:3-9 – Talk about how God doesn't expect us to just sit and wait around. God has given us all ways of sharing the Good News and helping build his kingdom right here and Now!
Act
– Faith is something we live out in our actions! This week challenge each member of the family to do something that shares God love with someone else. Talk about the way you live your faith out each night at dinner or before bed.